At IHTI we know that there are many training materials available to students. We did not want to reinvent the wheel. Instead here are some links to training materials that you might be interested in:
Want to keep your campaign organized? We recommend using the Five Shifts in Social Change:
Five Shifts for Social Change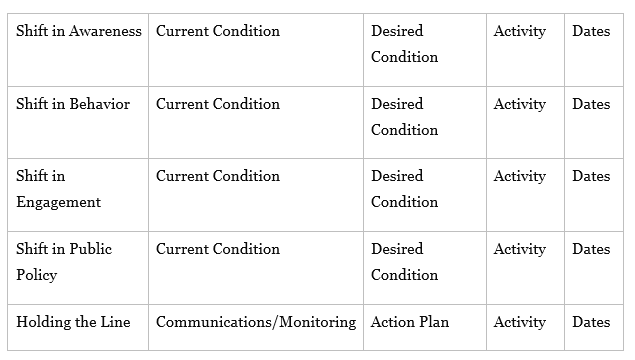 A significant alteration over time in behavior patterns and cultural values and norms.
Social Change takes time, but creates a lasting impact. We can measure and evaluate our work through five shifts. These shifts represent and indicate root cause change that is happening in society.
Shifts in awareness: The issue is defined differently in the community or larger society.
Shifts in behavior:People are behaving differently in the community or larger society.
Shifts in engagement:People in the community or larger society are more engaged in your issue.
Shifts in policy:An institutional, organizational, or legislative policy or practice has changed.
Maintaining or holding the line:Earlier progress on the issue has been maintained in the face of opposition.
Source: The Women's Fund
Tired of running bake sales? Check out these resources for more creative ideas:
Now that you have completed some successful programming, how about we evaluate it! This might not sound like fun, but tracking your progress (and knowing where your group can improve) is a real asset.
This assessment tool breaks it down, element by element.
Too basic? Try this evaluation plan workbook.
Connecting with Nonprofits
We can help you or your organization coordinate a training session. Here are some topics that your group could plan a training around:
Human Trafficking 101- This training gives a basic overview of human trafficking, including a definition and a global distribution overview.
Sex Trafficking- This training delves into the difference between consenting sex work and sex trafficking. It also touches on vulnerable populations, homelessness and poverty.
Labor Trafficking- This training sheds light on an understated global epidemic and gives detailed narratives of how forced labor affects every corner of the globe.
Ethical Consumption-This training sheds light on how consumer behaviors affect labor practices worldwide and provides resources on how individuals and communities can reduce their contribution to forced and exploitative labor.
Anti-Human Trafficking Policy- This training gives an inclusive overview of policies which seek to fight human trafficking in local communities, nationally, and internationally.
Anti-Trafficking in Faith Communities- This training is designed for religious groups and details their role in the fight against trafficking.
Human Trafficking and Oppression- This training details the deep rooted systemic intersections of oppression that continue to fuel human trafficking.